Palomar student gets a set of tools with a new job as a diesel technician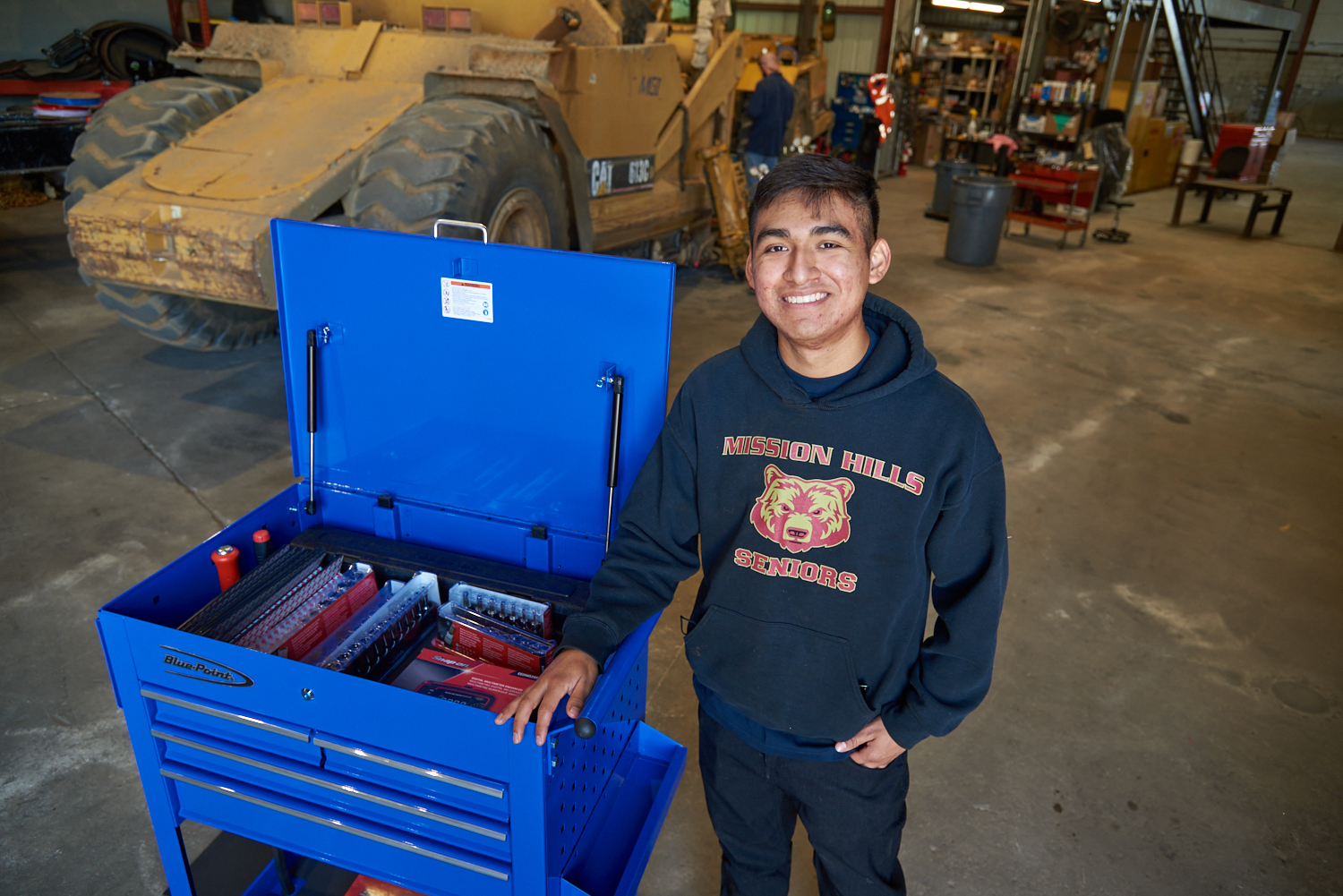 The college has partnered with Project Cornerstone to provide deserving students with the hand tools needed to enter the local job market.
ESCONDIDO — On his second day on the job, Orlando Perez, a student in Palomar College's Diesel Technology program, wheeled a brand new mechanic's toolbox into a cavernous bay at Marathon General, Inc.
He had just received the toolbox and its contents — about $3,900 worth of mechanics' necessities — as part of a joint venture between Project Cornerstone, a local nonprofit, and Palomar College. To help facilitate this program, Snap-On Tools has contributed by providing the tools at a significant discount to the Cornerstone Project.
Marathon General (MGI) is a general contractor that has been building roads and other infrastructure in the region for 30 years and has hired Perez to join the mechanical team that keeps its heavy machinery fleet running.
"Some industries require their employees to have equipment before they can come to work, and diesel technology is one of them," explained Bruce Reaves, jobs developer and case manager at Palomar. "We have students at community college who have no way of buying the thousands of dollars worth of tools they need."
Crystal Howard, executive director of Project Cornerstone, said her organization is dedicated to developing the region's workforce and funded Perez's toolset with a grant from the People's Reinvestment Program. neighborhoods in San Diego County.
"Most workers in the construction industry are reaching retirement age, and there is a lack of young people entering the labor market. Mechanics are one of the most sought after and hardest to fill positions," Howard said.
For many students who want to become mechanics, having a set of tools helps launch a career and "get their hands dirty" sooner than they otherwise would.
Perez, for example, is 20 years old.
"On the first day, yesterday, I was borrowing tools. But it's all good now," he said, pointing to his bright blue toolbox, "and it's really going to come in handy.
"There's a lot of learning, to be honest," Perez added. "The guys are all pretty cool and willing to show me how things work in the store."
A resident of Vista, Perez will graduate with an associate's degree in diesel technology in December. He started the program in the fall of 2018 after a childhood spent watching his father work as an auto mechanic.
"Since I was a kid, I saw him snatch every day in his store. Everything is bigger here," he says. "I want to get my foot in the door and gain work experience. I've already had two years at Palomar, and I'm almost done. I saw this scholarship opportunity and I said, 'You know what? I take it.'"
Steve Gallant, vice president of Marathon General, said the company's equipment fleet is serviced both at its Escondido shop, where Perez is now a fleet mechanic, and in the field.
"All of our guys come with their own tools," Gallant said. "Orlando is young and ambitious – two good qualities – and this is a good opportunity for us to bring someone in and train them for the future."
Howard said his organization basically tries to entice promising students into an industry that needs skilled mechanics.
"How is a student going to find thousands of dollars to buy tools? And it helps the industry by helping it connect to a skilled workforce. We are looking for a consistent and sustainable worker pipeline," she said.
Reaves helped coordinate the end of Palomar's partnership by creating an application process to identify the most deserving students.
"This program helps students who have worked hard get into the field immediately, without having to figure out how to finance thousands of dollars worth of equipment before getting to work," Reaves said.