Forbes Advisor Names Asset Panda Best Tool Management Software of 2022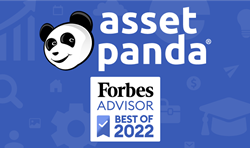 "Asset Panda is an easy-to-use and customizable tool management solution that is ideal for medium to large businesses."

FRISCO, TX (PRWEB)
07 April 2022
Asset Panda, a leading provider of asset tracking software, today announced that its platform has been rated the best tool management software by Forbes Advisor. The ranking was published on March 21, 2022 in a review of high-quality tool management solutions.
Asset Panda has consistently received high marks for its software from users and industry publications in the ten years since its launch in 2012. It has dramatically improved business efficiency in over 45 countries through a highly configurable platform designed to work with any type of asset. "We believe we offer the best tool tracking solution on the market and are thrilled to receive this ranking from Forbes Advisor," said Rex Kurzius, CEO of Asset Panda. "Helping our customers work smarter is key to their success and ours."
Forbes Advisor's ranking was based on a review of ease of use, features, price, and customer support offerings among dozens of tool tracking software solutions. Their review of Asset Panda's capabilities led them to conclude that "Asset Panda is a customizable and easy-to-use tool management solution that is ideal for medium to large businesses. Their analysis also highlighted "excellent customer support" for a "user-friendly", "highly configurable" tool with a "robust feature set".
Asset Panda's Tool Tracking Solution offers businesses in all industries an easy way to track the equipment and tools critical to their operations. It offers a robust set of features designed to efficiently manage tools and know who has what, what equipment is on which jobsite, and when equipment needs to be serviced or repaired. Asset Panda customers also have access to a full set of support services, including 24/7 chat and email support.
The Forbes Advisor Best Tool Management Software Of 2022 list is published online at https://www.forbes.com/advisor/business/software/best-tool-management-software/
About Asset Panda
Founded in 2012, Asset Panda is a powerful and flexible cloud-based asset management platform designed to help the world work smarter. The platform is designed with flexibility in mind, allowing Asset Panda to be configured to work the way the user does, for any type of business. The company is committed to providing its customers with exceptional customer service and a constantly improving product.
Share the article on social networks or by e-mail: